"WHIPPED CREAM & OTHER DELIGHTS" — HERB ALPERT & THE TIJUANA BRASS (1965)
Cover model Dolores Erickson was three months pregnant when she posed in whipped cream for this album. It sold 6 million copies (99 percent of them to teenage boys).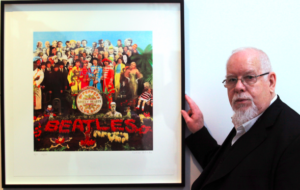 Probably most famous of all is the "Sgt. Pepper" cover (seen here with its creator, Peter Blake), but that's too obvious. Click through for 50 unforgettable album covers, starting with another Beatles LP—one that inspired more imitations than any other.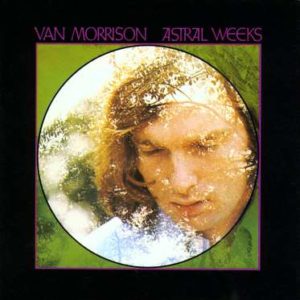 "ASTRAL WEEKS" — VAN MORRISON (1968)
With a photograph by Joel Brodsky, the "Astral Weeks" cover was meant to convey "the mystic symbol of the union of opposites; the sacred of heaven and earth."
"THE HEART OF SATURDAY NIGHT" — TOM WAITS (1974)
The album's illustrated cover by Lyn Loscaro is a take-off on Frank Sinatra's classic 1955 "In the Wee Small Hours" cover, every ounce of loneliness reproduced.
Photo: Asylum Records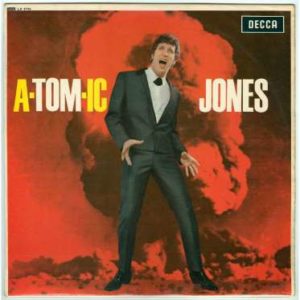 "A-TOM-IC JONES" — TOM JONES (1966)
The Welsh singer's third U.S. release failed to make the charts, mostly because of its mediocre songs. But so what? The cover is positively nuclear.
Photo: Decca Records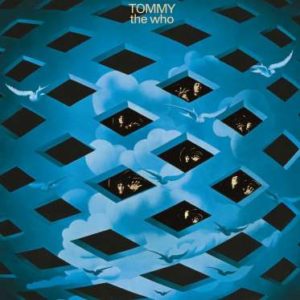 "TOMMY" — THE WHO (1969)
"It was 1968 and the world was full of messages," says Mike McInnerney, who designed this album cover. "Everyone was promoting some kind of message—feminism, expanded consciousness, meditation, revolution, God, drugs, love, the environment. Rock was doing its usual up-to-the-minute job of transmitting them. If rock could do it, I thought, so should illustration."
Photo: Decca Records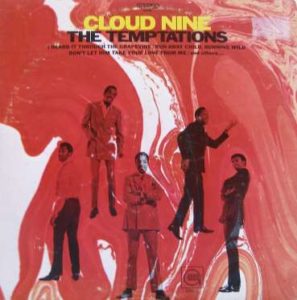 "CLOUD NINE" — THE TEMPTATIONS (1969)
The usually unadventurous Motown went wild with the Temptation's first venture into psychedelic soul.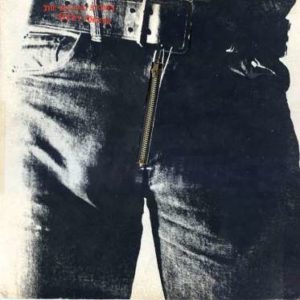 "STICKY FINGERS" — THE ROLLING STONES (1971)
With its famous photo by Andy Warhol, "Sticky Fingers" is the only Stones album not to feature any of the band's members on its cover. Though long assumed to be Mick Jagger, the crotch shot—with a working zipper—actually depicts one of several Warhol associates who modeled for the photo. "I knew it was me because it was my underwear," said one claimant, Glenn O'Brien, then editor of Interview magazine. "I got paid $100. Not bad for 20 minutes' work."
Photo: Rolling Stones Records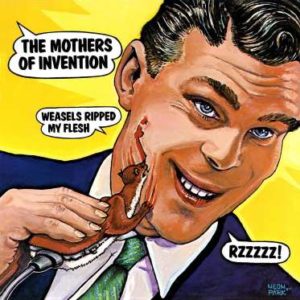 "WEASELS RIPPED MY FLESH" — THE MOTHERS OF INVENTION (1970)
Mothers auteur Frank Zappa grabbed the title of his album from a headline he'd seen in a 1950's men's magazine, which he handed over to artist Neon Park, asking, "Can you do worse than this?" Park, inspired by an electric razor ad, took it from there—to Zappa's delight and his record company's dismay.
Photo: Reprise Records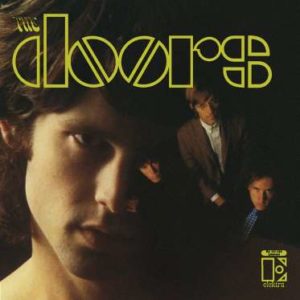 "THE DOORS" — (1967)
"Initially, there seemed to be a little jealously that Morrison was being put so up front in the photos," said Joel Brodsky, who shot the cover of the Doors' first LP. "But basically, the others understood that Jim was the sex symbol."
Photo: Elektra Records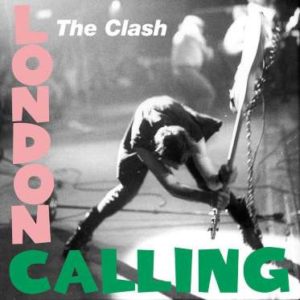 "LONDON CALLING" — THE CLASH (1979)
The front cover of this punk classic features a photo of Paul Simonon smashing his Fender Precision Bass against the stage during the Clash's 1979 U.S. tour. Photographer Pennie Smith thought the image too out of focus and didn't want it to be used. It has since been called "the ultimate rock 'n' roll moment."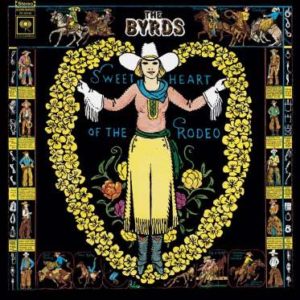 "SWEETHEART OF THE RODEO" — THE BYRDS (1968)
The Byrds used images created by cowboy artist Jo Mora (1876-1947) for the cover of their pioneering forayinto country rock.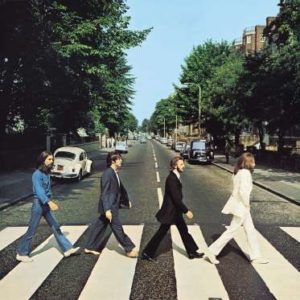 "ABBEY ROAD" — THE BEATLES (1969)
Though the Beatles had quite a few iconic album covers, the photo gracing "Abbey Road" is one of the most famous and imitated images in rock and roll history (sorry, "Sgt. Pepper" fans). Depicting the Fab Four crossing Abbey Road in front of EMI Studios, the photo was one of six shots taken while a London bobby held up traffic. It appears without any type. "We didn't need to write the band's name on the cover," Apple Records creative director John Kosh said. "They were the most famous band in the world."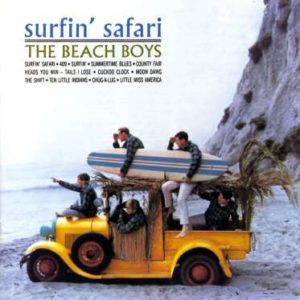 "SURFIN' SAFARI" —THE BEACH BOYS (1962)
Shot at Malibu's Paradise Cove, the cover of the Beach Boys' debut album features the boys holding Dennis Wilson's yellow and blue fiberglass surfboard. The board recently went up for auction on eBay with a starting bid price of $75,000.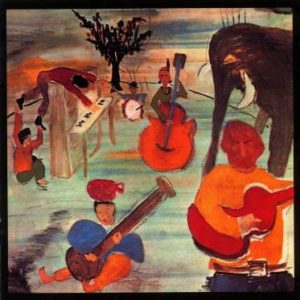 "MUSIC FROM BIG PINK" — THE BAND (1968)
The Band's debut album is named after the pink house not far from Woodstock where the group had gathered in the basement with Bob Dylan to create the legendary "Basement Tapes." The album's cover was painted by Mr. Dylan himself.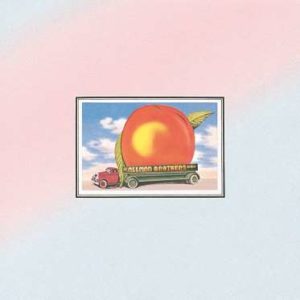 "EAT A PEACH" — THE ALLMAN BROTHERS BAND (1972)
Every Allman Brothers devotee knows that the cover of this album, created by W. David Powell, refers to the peach-hauling truck that struck and killed guitarist Duane Allman while he was on his motorcycle. Actually, that's another urban legend: Duane was still alive when the album's artwork was completed and the fatal truck was carrying lumber.
Photo: Capricorn Records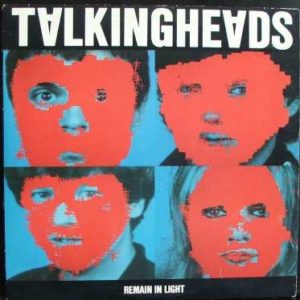 "REMAIN IN LIGHT" — TALKING HEADS (1980)
The cover art on "Remain in Light" was conceived on early computers by band members Chris Franz and Tina Weymouth. "The masks could have been anything," says Weymouth. "They could have been African, they could have been tomatoes on our face. It wasn't really that important—it was just kind of raising questions. Making people think, 'What are they trying to do?'"
Photo: Sire Records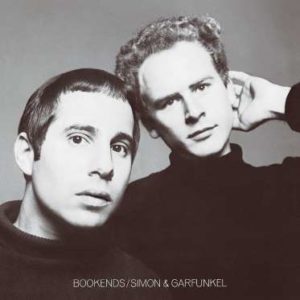 "BOOKENDS" — SIMON & GARFUNKEL (1968)
Renowned photographer Richard Avedon snapped the "Bookends" cover photo. Look closely and you can see Avedon's reflection in Simon's irises.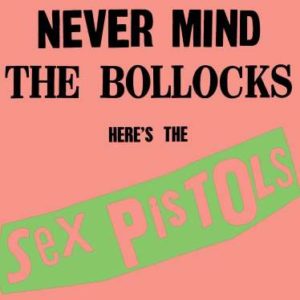 "NEVER MIND THE BULLOCKS, HERE'S THE SEX PISTOLS" (1977)
The Pistols' manager Malcom McLaren wanted the album cover to look like a package of laundry detergent, "No better, no worse, just disposable rubbish."
Photo: Virgin Records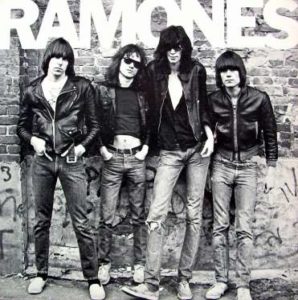 "RAMONES" (1976)
Sire Records spent $2,000—a third of what it cost to record the album—on a fancy photo shoot, which was then scrapped. Instead, Roberta Bayley, a photographer for Punk magazine, lined up the seminal punk rockers in front of a brick wall and started clicking. "Then Dee Dee stepped in dog s*** … and the photo session was over," Bayley recalled. Luckily, she'd already snapped her iconic shot.
Photo: Sire Records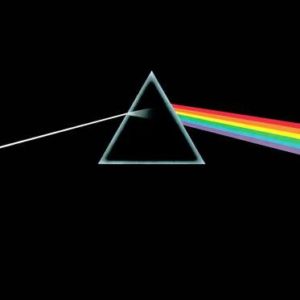 "DARK SIDE OF THE MOON" — PINK FLOYD (1973)
Tired of photos on their album covers, the band approached a London design team led by Aubrey Powell with the hope of getting something different for this one. As Powell tells it, "Richard Wright, the organist, said, 'Come up with something simple, a simple graphic, like a chocolate box.' This was insulting to us, but we said, 'OK, we'll think about it.'"
Photo: Harvest Records
"PEARL" — JANIS JOPLIN (1971)
The shot on the cover of "Pearl," released after her death, has become the iconic Janis Joplin photo.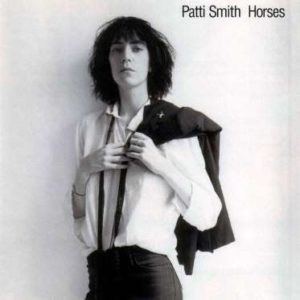 "HORSES" — PATTI SMITH (1975)
Punk's poet laureate has described her iconic look on the cover of "Horses" as "a mix of Baudelaire and Sinatra." Famed photographer Robert Mapplethorpe—Smith's friend and ex—captured the singer's style and attitude, Salvation Army duds and all.
Photo: Arista Records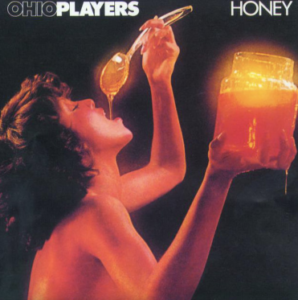 "HONEY" — OHIO PLAYERS (1974)
Since its release, "Honey" has been the stuff of urban legend, one saying that cover model Ester Cordet, a former Playboy model, was severely burned and disfigured by the heated-to-a-boiling-point honey poured on her body during the photo shoot. The debunked rumor got even worse: Some claimed that the scream on "Love Rollercoaster" (actually keyboard player Billy Beck) was the sound of Cordet being murdered after she threatened to sue.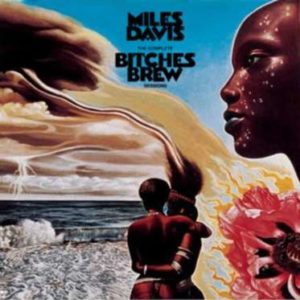 "BITCHES BREW" — MILES DAVIS (1970)
German painter Mati Klarwein's surrealistic cover art is as forward looking as the jazz/rock fusion that Davis pioneers on his album.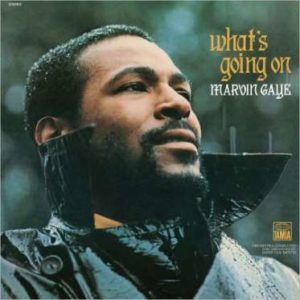 "WHAT'S GOING ON" — MARVIN GAYE (1971)
The classic photo on the cover of this concept album was initially rejected because Motown's art director thought you could see too far up Marvin Gaye's nostrils. But Gaye fought for it, and the result is the most striking of the record company's usually mediocre covers.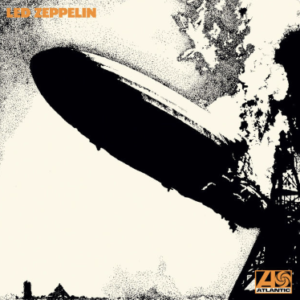 "LED ZEPPELIN" (1969)
The cover of Led Zeppelin's first album, chosen by guitarist Jimmy Page, features a photo of the 1937 Hindenburg airship disaster shot by photojournalist Sam Shere.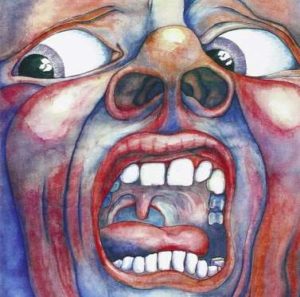 "IN THE COURT OF THE CRIMSON KING" — KING CRIMSON (1969)
Artist Barry Godber died shortly after the release of King Crimson's debut LP. It was his only album cover.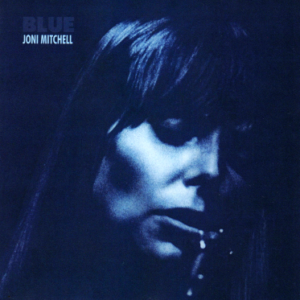 "BLUE" — JONI MITCHELL (1971)
The famous murky cover shot of Joni Mitchell on "Blue" was taken by former child star Tim Considine, who appeared on the TV series "My Three Sons."
Photo: Reprise Records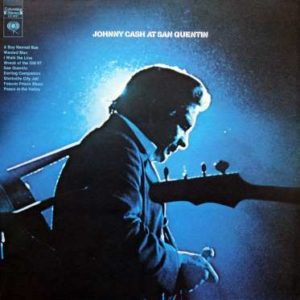 "AT SAN QUENTIN" — JOHNNY CASH (1969)
The shot of Johnny Cash performing inside a maximum security prison on the cover of this live album is by Jim Marshall. It captures the Man in Black at his quintessential best.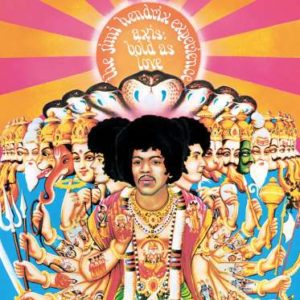 "AXIS: BOLD AS LOVE" — THE JIMI HENDRIX EXPERIENCE (1967)
Jimi Hendrix asked his label for "Indian"-themed artwork on the cover of his second album to celebrate his part Native American heritage. He was then disappointed to discover that his request was misunderstood as Eastern Indian.
Photo: Track Records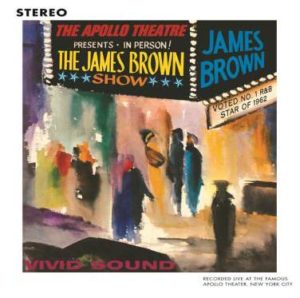 "LIVE AT THE APOLLO" — JAMES BROWN (1963)
Nashville-based cover artist Dan Quest's name was more often associated with country albums and it's likely he never set foot in New York's Harlem neighborhood. But his watercolor cover for "Live at the Apollo" will get you on the good foot.
Photo: King Records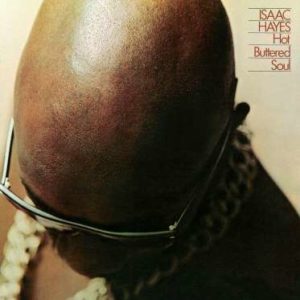 "HOT BUTTERED SOUL" — ISAAC HAYES (1969)
The cover of Isaac Hayes' groundbreaking soul album simply shows his bald head. But it's the stone-coldest "Black Is Beautiful" bald head in the universe.
Photo: Enterprise Records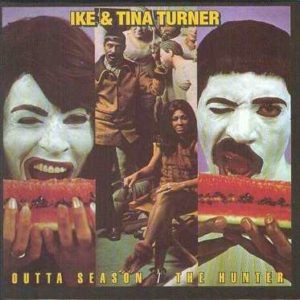 "OUTTA SEASON" — IKE & TINA TURNER (1968)
Um … was this Ike's idea? Still, it stands out.
Photo: Liberty Records
"ONE NATION UNDER A GROOVE" — FUNKADELIC (1978)
The comic book drawing on the album cover is by African-American artist Pedro Bell. Funkadelic's George Clinton said Bell "inverted psychedelia through the ghetto like an urban Hieronymus Bosch."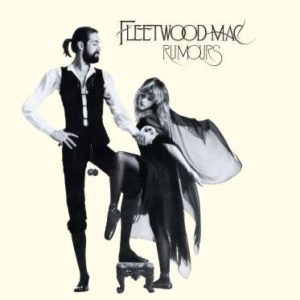 "RUMOURS" — FLEETWOOD MAC (1977)
The balls hanging between Mick Fleetwood's legs on photographer Herbert Worthington's cover were in fact toilet chains. Fleetwood had lifted them from a club the band played in its formative years, long before "Rumours" became one of the best-selling albums of all time.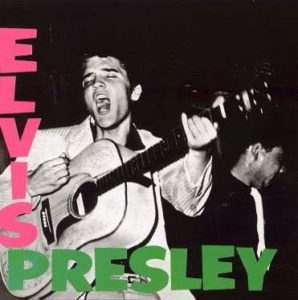 "ELVIS PRESLEY" (1956)
The shot of Elvis Presley on the cover of his first album captures the spirit of early rock and roll. It was taken by William "Red" Robertson during a concert in Tampa, Florida, on July 31, 1955.
Photo: RCA Records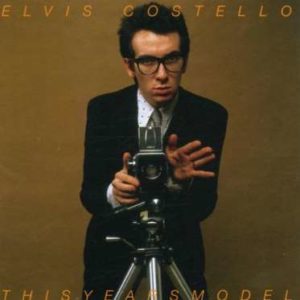 "THIS YEAR'S MODEL" — ELVIS COSTELLO (1978)
"Just as we were about to start shooting, Elvis asked me if I had 'Hotel California' by the Eagles, and could I play it," recalls Chris Grabin, who took the photo on the cover of this album. "I was puzzled by his choice—until he told me that he loathed the record, but wanted to look really pissed off and angry in the shots."
Photo: Radar Records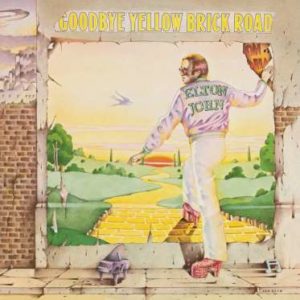 "GOODBYE YELLOW BRICK ROAD" — ELTON JOHN (1973)
"Yellow Brick Road" was artist Ian Beck's only album cover, but he went on to illustrate over 70 children's books.
Photo: MCA Records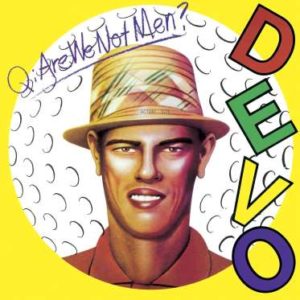 "ARE WE NOT MEN?" DEVO (1978)
Devo's debut cover image was initially based on a photo of professional golfer "Chi-Chi" Rodriguez. When the band's record company expressed worry over a possible lawsuit, art director Rick Serini morphed the faces of presidents Kennedy, Johnson, Nixon and Ford with that of Rodriguez to create the final cover art.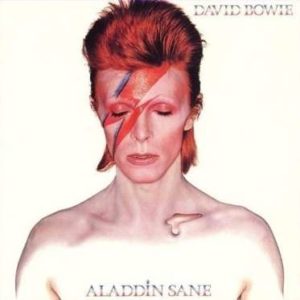 "ALADDIN SANE" — DAVID BOWIE (1973)
The famous red-and-blue lightning bolt painted across Bowie's face on the cover of this album was inspired by the logo on a rice cooker in photographer Brian Duffy's studio.
Photo: RCA Records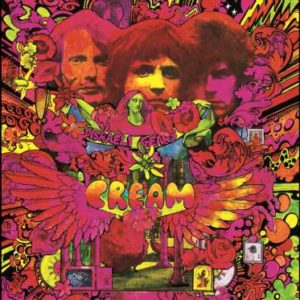 "DISRAELI GEARS" — CREAM (1967)
Artist Martin Sharp, a neighbor of Eric Clapton, created the psychedelic collage on the cover of "Disraeli Gears." The two later collaborated on several songs.
Photo: Polydor Records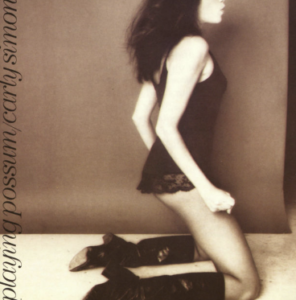 "PLAYING POSSUM" — CARLY SIMON (1973)
"I had no intention of baring my teddy," Simon said of the suggestive cover of this album. Even so, after a couple of glasses of wine, "I was all over the place."
Photo: Elektra Records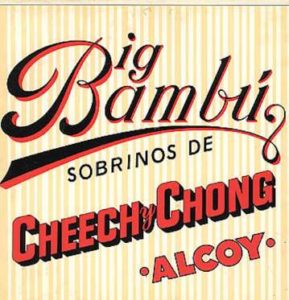 "BIG BAMBU" — CHEECH & CHONG (1972)
Designed by Ernie Cefalu, the original sleeve of this comedy classic was made to look like a giant rolling paper package, complete with removable paper.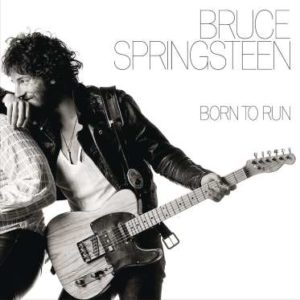 "BORN TO RUN" — BRUCE SPRINGSTEEN (1975)
Photographer Eric Meola shot 900 frames for the cover of Springsteen breakthrough album, but, he says, "Instantly, we knew that was the shot."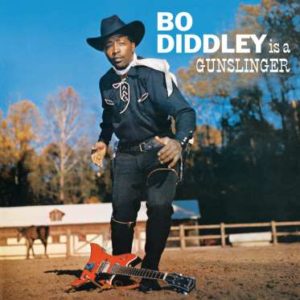 "BO DIDDLEY IS A GUNSLINGER" (1960)
Shooting from the hippest, rock and roll pioneer Bo Diddley paid for this album's cover photo himself at a cost of $50. He later became a real deputy sheriff in Valencia County, New Mexico.
Photo: Checker Records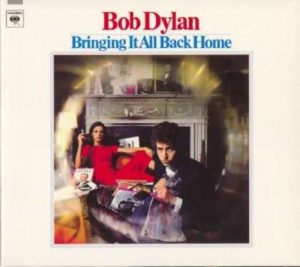 "BRINGING IT ALL BACK HOME" — BOB DYLAN (1965)
Urban legend had it that the elegant woman lounging behind Dylan on the cover of his first electric-acoustic album, is the singer himself, in drag. It's actually Sally Grossman, the wife of Dylan's manager Albert Grossman. Seated on Dylan's lap is his cat, named Rolling Stone.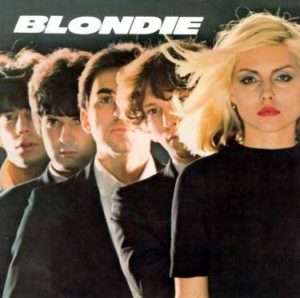 "BLONDIE" (1977)
Photographer Shig Ikeda's name is misspelled in the cover credits on this album, but his Beatles-influenced portrait of Deborah Harry and her mates is flawless.
Photo: Private Stock Records
"CHEAP THRILLS" — BIG BROTHER AND THE HOLDING COMPANY (1968)
Columbia Records planned to put this elaborate cartoon, drawn by renowned underground artist Robert Crumb, on the back cover of the album, but Big Brother singer Janis Joplin insisted that it appear on the front. Crumb refused to be paid for his work, saying "I don't want Columbia's filthy lucre."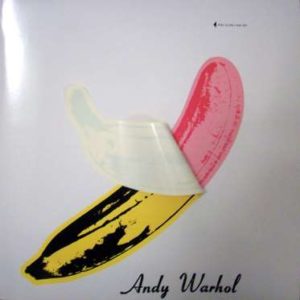 "THE VELVET UNDERGROUND & NICO" (1967)
The original pressings of Andy Warhol's cover allowed buyers of this album to peel back the banana skin revealing a nude-colored banana underneath.
Photo: Verve Records